The summer family holiday is an opportunity to spend quality time together and also to top up your tan.
Whilst there is nothing more exciting than the knowledge that you are about to head off on a family adventure in the sunshine; there is also a chance that you might be terrified at the prospect of entertaining your child on the flight.
After all, no-one likes to sit near a screaming child during a 6-hour flight and really who can blame them?
So if you are a parent looking to head off for sunnier climes then here are our top tips for making sure that your little one doesn't cause havoc (and headaches) on the plane.
Make it Magical
As we get older we seem to lose the sparkle that we once had as children and when it comes to flying it might be time to find it again. Look at it from the viewpoint of a child, how exciting is it to think that you will soon be up in the sky looking over the rest of the world?
By making the whole experience something special they will be much more likely to forget about how bored they feel and instead concentrate on the fields, clouds and sea that is below them.
Pack them Something to do – Toys
It seems simple; just packing something for the kids to do during the flight is a great way to keep them entertained. But what do you pack?
It really does depend on the type of toys that your child prefers. The brand Melissa and Doug have a great variety of wooden games that are perfectly self-contained and easy to transport; however, they may only be suitable for younger children.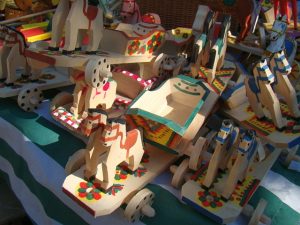 For older children you could pop a brand new Lego set in the hand luggage for them to finish whilst they are flying. Lego bricks are the worlds favourite and most versatile toys.
Also never underestimate the power of a pad and pens; simple drawing and colouring can keep a child of any age entertained for a good amount of time.
Have Plenty of Snacks
A hungry child is never fun. They are likely to moan, whinge and misbehave; therefore, it is important to make sure that you pack plenty of snacks to keep them sated.
Have a mixture of healthy treats and a couple of naughty ones too; that way you feel good about what you are giving them and they also feel that they are having a special treat too!
Give in to Technology
It is no secret that parents are less than keen on the idea of handing over a tablet or phone to their child to keep them entertained. But the truth is, from time to time it is a really good idea!
Load up your gadget of choice with plenty of films, games and books and you can at least enjoy half an hour of peace during your flight.
Flying with children can be terrifying but hopefully we have shown you that
with some planning it doesn't have to be all that bad!