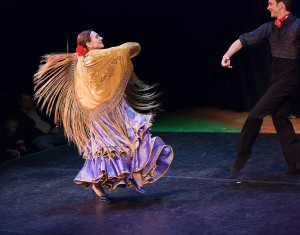 Flamenco probably conjures up memories of holidays in the sunny Spanish costas, lots of sangria, castanets and late nights in the resort bars. Although the culture of flamenco is definitely most popular in Spain, the appeal of the music and dancing has caught on in all parts of the world, and if you know where to look, you can find music, dancing and the flamenco vibe in London too.
Bars
Just a short walk from Tottenham Court Road tube station is a Spanish bar and restaurant called Costa Dorada, which not only serves authentic Spanish food including tapas and paella, but which has a flamenco show every night from Thursday to Sunday. There is no extra charge for the show but as the show has a good reputation with locals, Spanish ex-pats and visitors, booking a table in advance is highly recommended. If you just want to see the show without eating, buy a big jug of sangria and sit at the bar to enjoy the castanets and music.
Flamenco Dancing
London is also home to the largest school of Spanish traditional dance in the whole of the UK. The Escuela De Baile (literally "Dance School") is in Camden, opposite Chalk Farm tube station and runs classes on all aspects of flamenco dancing, from classes for experienced dancers wanting to learn more about choreographing their own routines to classes for complete beginners and children. You don't even need special clothing, just a flared skirt or loose trousers, and a pair of basic court shoes. Flamenco dancing is a great way of keeping fit and learning a new skill, and meeting some new friends too. Children especially benefit from learning flamenco as it increases their confidence, helps with posture and coordination and gives them the opportunity to take part in displays and shows. You will find a great selection of Flamenco clothing for all abilities at London's only dedicated Flamenco retailer (and the World's first!), El Mundo Flamenco.
Professional Shows
London is home to some of the best dance companies in the world, and famous companies like the Sadler's Wells ballet put on annual shows in the flamenco tradition. Demand for tickets to see these shows is fierce, so watch their website carefully for details of tickets, and get in early when they go on sale. Other famous flamenco companies often perform in venues such as Harry's Place or the Hackney Attic, and websites such as TimeOut are the best place to keep up to date with what is happening.
Flamenco Guitars and Music Lessons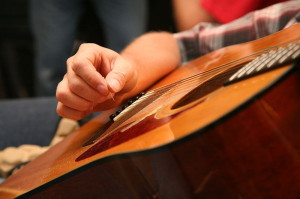 If the music and dancing has inspired you to learn to play the flamenco guitar, there are various options to help you learn. The London Guitar Studio in Duke Street, central London sells the widest range of traditional Spanish and flamenco guitars in the capital, as well as instructional manuals and sheet music. Instrument and sheet music shops can also be a great source of contacts for teachers, as they often put their details on notice boards in the shops. Websites like Gumtree or other local listings organisations can also help put you in touch with teachers, but whatever method you use to find a teacher take up references or look for reviews to get the best teacher possible.