If you're looking for a great deal on travel accessories and luggage then check out Charlotte Reid London, your one stop fashion store.. There's a huge selection of budget to premium range luggage brands for all your travelling needs, from lightweight cabin luggage and expandable cases to chic holdalls and leather business bags. Above all, Charlotte Reid have an enviable reputation for the very best customer service!
Women's Bags
You are spoilt for choice with our impressive collection of over 100 different styled women's bags that are not only desirable, but extremely affordable. If you're looking for a smart work bag which will be suitable for any office or formal situation, you can choose from a great selection of messenger bags and across body bags which look great and are functional too. Design is at the heart of everything we do, and our women's bags are quite different from everything else sold on the high street. Whatever the occasion and whatever the outfit, you'll find something which will suit your individual tastes and preferences.
Lap Top Bags
If you're one of the many who has to carry a laptop too and from work or college each day, you'll know how important it is to have a great laptop bag which is comfortable to carry and will protect your laptop from knocks and bumps. The two main styles of business luggage laptop bags which are offered are the backpack style bag which is the ideal choice for anyone cycling to work or who needs to keep hands free, and the messenger style bag which is worn across the body with a long strap. Messenger style bags are the more popular choice, and are available in a wide range of styles and price points to suit all tastes and budgets.
Laptop Trolley
Carrying your laptop in a bag on your back or across your chest is all very well and good, but if you have to carry lots of documents or other items related to your work on a regular basis, then the perfect solution for you is a laptop trolley. This sort of bag looks just as smart as a traditional briefcase or laptop bag, but has the addition of a pull-out handle which allows you to take the strain off your back and pull your lap top and everything else along in comfort. If you regularly have to fly or travel by train for business appointments or meetings then this is also a great choice to help you move your things around in comfort.
Kids' Luggage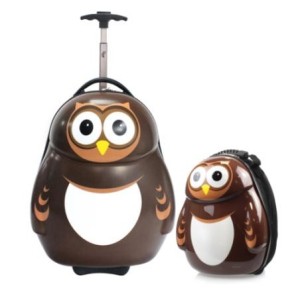 If you often travel with children, getting them and their luggage through the airport without tears and tantrums can be almost impossible. Solve these problems in one fell swoop with the great range of children's pull along trolleys which are both fun and practical. Suitable to take onto the aircraft as cabin baggage, these quality travel accessories for kids of all ages come in a variety of fun designs such as panda, bumble bee, penguin and ladybird, and they make any trip to the airport or on a train fun and interesting.
Byline
Article by Morag Peers