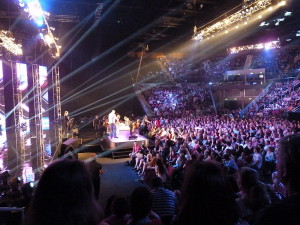 These days a night out at the theatre or a gig can be very costly. With seats in the West End costing anything up to £150 it is difficult to finance a night on the town and so such trips can become occasional luxuries. So what do you do if you like a bit of live entertainment but your bank balance isn't looking too favourable? One solution is to attend a recordings of a television show.
A Broad Choice
There are simply hundreds of shows to choose from with anything from situation comedies to current affairs programmes requiring audiences. If you love live music then there is plenty of that on offer too together with the chance to see many stars perform. Recordings take place across the country so there should be something local to you and all of the tickets are completely free.
Tickets
The tickets for the shows are issued either by the broadcaster or one of the specialist TV ticket agencies. Check out the BBC, Applause Store, SRO and TV Recordings for the shows on offer and register an interest in your favourites if they are not currently recording as you will receive alerts when filming of a new programme or series is coming up. Some shows like The X Factor, Britain's Got Talent and Top Gear are very popular and so you may not always be lucky enough to grab tickets. However, persistence usually pays off and you should get to see your top picks eventually.
The Experience
It is fascinating to see the logistics of making a television broadcast and there is usually plenty of entertainment on offer aside from the main show. Warm up comics keep the crowd amused before filming and during breaks in the action and the stars of the show will often have a chat with the audience as well. You will see plenty of outtakes and other amusing mishaps and there is always the chance of the totally unexpected happening.
Dress Code
There is no dress code for most broadcasts and so casual clothes are fine. However, if you fancy dressing up a bit for the occasion then go ahead and you might be glad you did as the warm up comedians have a habit of pulling people out of the audience for an impromptu visit to the stage. On these occasions you might want to be wearing your best frock!
The Downsides
Nothing is ever perfect and free entertainment is no exception. There are downsides and you must take account of these if you want to avoid disappointment. The main problem is that more tickets are sent out than there are seats available in order to ensure a full house. There are always some people who don't show up when they haven't had to pay and so the agencies are forced to invite more people than the venue will hold. For this reason it is essential to arrive early which means you are going to have to queue up outside for some time and hope that you get in. For larger venues where it takes some time to seat everyone the ticket agencies may hand you allocated seating in exchange for your ticket some hours ahead of the filming which means that your place is guaranteed and you can then go off to eat or relax for a while before the show.
The other principle issue is timing. Each show is a new production and as actors and presenters can make mistakes there can be extra takes which lengthen the time of the filming considerably. As the number of errors and other issues are hard to predict you can never really be sure how long you will be at the recording so make sure that you are not reliant on a particular train to get you home or that you have to be home at a specific time.
Conclusions
All in all being in a TV audience is great fun and a very good free night out. Providing you are not too bothered exactly when a show will start or finish and have the time to wait a while at the venue in order to guarantee entry, then this is the perfect way to get a brilliant night's entertainment without having to pay a penny.
Article by Sally Stacey