Whenever I travel anywhere I try to avoid the overtly tourist experience. I like to discover how people live, what the local cuisine is like and to find special places that are off the beaten track. This was never more true than when I visited Alaska. As part of my trip I decided to stay in a family home to see what life was really like and boy was it an eye opener.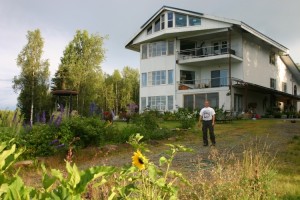 First Impressions
I flew into Anchorage and after a fabulous three days bear watching in Katmai National Park I picked up my hire car and drove north to the small community of Willow. I was in awe when I pulled into the private road leading to the house I was visiting. The family had about the same amount of land as a small country and their house looked out over a lake. It was all a bit different to life in England where you are lucky if your garden is any bigger than a postage stamp.
The Property
I was welcomed into the home and after dropping my luggage in my room I was keen to see the house and wonderful landscape. I wandered downstairs and was invited to take a walk around the garden. The stroll around the property was three miles long and took me past lakes and forests teaming with amazing wildlife. I was very excited as I had been told that moose come to drink in front of the house but I didn't see one on my first foray outside.
Hunting
On entering the house again I was taken to one of the living rooms which was like a branch of the natural history museum. There were stuffed animals everywhere including a bear, a moose head and a reindeer. I now felt a little uncomfortable as I have never been a fan of trophy hunting but it seemed rather rude to mention this fact when the man of the house was clearly a hunting fanatic and obviously shot anything that moved! I quite like the feel of American lodges but were I to create the look in my own home, I would opt for a felt animal bust for my walls! I had come to see the moose and the bears but infinitely preferred them alive.
Unusual Breakfast
The following morning I ate breakfast in the kitchen with a couple of visitors from Arizona. A plate of sausage and eggs was placed in front of me and I tucked in with enthusiasm. The sausage tasted unusual and so I asked what it was and nearly spat it out when my host informed me that it was moose. I kept eating though, when in Rome and all that, and in any case I don't have a problem with killing animals to eat them. I was less comfortable with my host's detailed explanation of how to hunt a moose which basically involved walking towards it holding a coat hanger above your head. It seemed unlikely that such a simple manoeuvre would outsmart a moose but apparently it worked as evidenced by my breakfast.
Life with Firearms
The young girl opposite me then told me that she had been walking her dog that morning when it had been approached by a porcupine. I asked her what she did about this and she told me that she shot it (the porcupine that is). I went a bit silent at that point but everyone else congratulated her. How different life is in Alaska. I really enjoyed my stay and I often think of the days I spent in Willow. One day I really must return but I don't know if I could ever be persuaded to shoot any animals. My neighbours in England might be another matter though!
Byline
Article by Sally Stacey