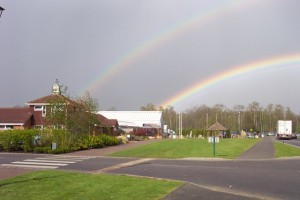 I live on the Surrey/Berkshire border and there are several garden centres within a short drive of my house. They have not featured on my hot list of places to go, mainly because I hate gardening! If you don't need any plants or tools a visit to a garden centre doesn't tend to be a high priority but I have just discovered that it should be! In search of Christmas decorations I decided to pay a couple of these places a visit and boy did I get a surprise.
Changes
The first garden centre was exactly what I was expecting and warranted only a brief stay. I was in Bagshot and knew that Longacres was just up the road as I had dropped a few times to buy cut flowers. When I arrived at the car park the place did not look to have altered much since my last visit but everything changed when I walked through the door. There had been a spectacular transformation and one which looked like it had been planned just for me!
Christmas
There was a truly incredible array of Christmas goods including trees, decorations, wreaths and lights. If you like Christmas it was like dying and finding yourself in heaven! I had never seen such an amazing display and feared that I might still be there hours later wandering around in wonder. The Christmas goods were supplemented by a great selection of toys, gifts and homewares and there was a rather good looking cafeteria to the rear where I might well have spent some quality time had I not still been shopping as closing time approached.
Food
After finding all of the decorations I needed things then got even better as I discovered that there was a wonderful food hall at the centre. It was a bit like finding myself in Fortnum and Mason without the hassle of travelling to London and just to crown my day there was the most amazing butchers providing the grand finale. I have long bemoaned the absence of butchers on the high street. Supermarket meat is always so disappointing and it is almost impossible to find some of the meats I most enjoy. Imagine my delight when I discovered that Bevans offered the most incredible looking steaks together with veal and calves liver.
Planning a Return
I had walked into that garden centre expecting a few baubles and gifts but found a veritable wonderland of Christmas goods, food and so much more. I didn't even get as far as the plants which I presume were there somewhere and could have spent all day shopping. On the way in I noted that there were several concessions within the centre selling hot tubs, mobility vehicles and summerhouses. The only slight downside was the fact that the large floristry area which used to be in the centre of the main building had gone. It was a great place to buy flowers and floristry supplies but had now disappeared. No matter as there were so many other delights to enjoy that I could live without the flowers. I am planning to return this week as those steaks are definitely calling me!
Byline
Article by Sally Stacey