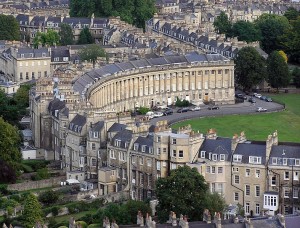 I spent the first eight years of my life as a resident of Bristol. It was an exciting city to live in and I certainly had plenty of adventures but one of the highlights of any week was a trip to Bath. My mother had to travel over to beautiful Bath regularly and I always wanted to tag along. After a little shopping and visiting her friends at the stationery supplier there was always time to enjoy the other sights.
Even as a child I marvelled at the gorgeous Georgian architecture and dreamed of one day living in one of the opulent terraced houses. Sadly I haven't managed that yet but I live in hope! Royal Victoria Park was also a favourite with plenty of wide open spaces to explore and great children's play area. The place I most looked forward to was the Pump Room at the Roman Baths where we would enjoy afternoon tea in sumptuous surroundings. I would always indulge in hot chocolate and a toasted teacake and felt that it was the height of luxury. Things always took a turn for the worse when we left, however, because mum was convinced of the curative properties of the spring water and would insist that I took a glass of the stuff from the fountain at the exit. I can only describe this hot water as highly unpleasant but drinking it became a tradition.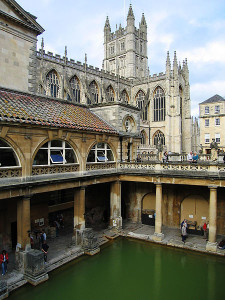 The glorious Pump Room is still operating today and must be one of the finest and most historic places to dine in the country. Afternoon tea is the perfect way to round off a trip to the historic Roman Baths after which the city is named. The tour of the baths is a great experience and gives a wonderful insight into the genius of the Romans. Water originating from the Mendip Hills has been rising from the Sacred Spring on the site for thousands of years and is used to fill the Great Bath which is still intact and a very impressive sight. The bath is lined with 45 sheets of lead which together with the lead piping has made the waters unsafe to bathe in today. Adjacent to the Great Bath a series of smaller baths, plunge pools and changing rooms all of which can be visited on the tour.
If you are ever in the West Country make sure Bath is on your itinerary and visit the Roman Baths and Pump Room. Perhaps avoid drinking the spring water which tastes musty and muddy. I am sure it does have some valuable properties but they will be lost on you when you find you want to spit it out!
Byline
Article by Sally Stacey