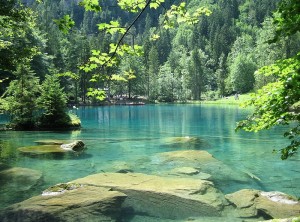 If you find yourself in the Bernese Oberland region of Switzerland it is well worth leaving the high alpine walks and pretty towns for the day to visit Blausee in the Kander Valley. Blausee, or Blue Lake, has been a popular visitor attraction since the 1880's and as soon as you enter the site it is not difficult to see why. A pristine and crystal clear lake of the most striking blue is at the centre of a 20 hectare nature park amidst beautiful forests.
The Park
Blausee is situated between Kandersteg and Frutigen in the Kander valley. The park is 900m above sea level and is the site of a major rock fall. The fall caused the formation of the lake and the unique features of the landscape. The nature trails around the park take the visitor past vast boulders and rocky terrain in what feels almost like a secret garden with small gorges and hidden paths. The trails also pass through forested areas and alongside the lake itself.
If the landscape does not wow you the lake certainly will. Blausee is renowned for its striking blue colour and amazing clarity, you can see deep down into the waters where fallen trees lie on the bottom and thousands of trout swim happily. It is possible to take a trip on a glass bottomed boat to fully appreciate the depth of the lake and the natural features.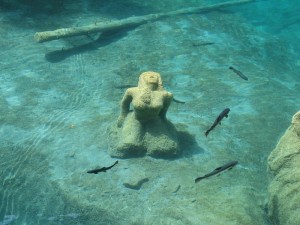 After taking in the nature trails and enjoying the boat trip you can visit one of the two restaurants on the site for some refreshments. Fresh trout dishes are unsurprisingly on the menu and it best to eat before making the short walk to the organic trout farm! It is possible to tour the farm and learn all about the breeding processes at the centre.
Such is the abundance of trout in the area that keen anglers will wish they had brought their tackle but sadly it wouldn't do them any good as you cannot fish at Blausee except during the special fishing event held in October each year. You can, however, order some of the organic trout from the farm to take away with you. The park also has an open air cinema on certain dates in the month of June and there are areas for camp fires and barbecues which can be used throughout the season. The kids will love the adventure playground too!
If you fall in love with Blausee it is possible to use the venue and the on-site hotel for weddings. There are ample catering facilities and accommodation for guests who will love this most romantic of settings.
Visiting
The park is open most days of the year, closing only for special events. There is plenty of parking and the entrance fee is a very reasonable CHF 5 at the time of writing. This place is great value for money and well worth a visit.
Byline
Article by Sally Stacey a frequent visitor to Switzerland who loves a walk around Blausee