When I travel I love to investigate local crafts and often find wonderful things that I would like to bring home. My luggage is often somewhat heavier on my return journey than when I set off! It isn't always possible to accommodate everything that I want to buy and sometimes I don't have the funds available anyway. After all I have just financed a holiday! If luggage space is the problem then I can usually get things delivered but I have been frustrated by the fact that adding to my collections at a later date has often proved difficult because many of the traders that I have met do not have a website where I can view my options.
Some do, of course, but they don't always display everything that they have. I understand that photographing the items and uploading them can be time consuming but surely the effort would be worthwhile and yield additional sales. It would be fabulous if I could take a look at the ranges whilst I am abroad and then build my collections over a period of time by ordering online. There have even been several occasions when I have seen things which weren't even crafts as such, just nice pieces or souvenirs of the region that I would like to have bought but just couldn't afford at that moment. They weren't listed online and so I wasn't able to purchase them at a later date.
Favourite Finds
My favourite ever find was a lady in Piran, Slovenia who makes beautiful ceramics. She has a small shop where she displays a good selection of her work and she will undertake commissions if you can't see what you are looking for. The first time I visited her I ordered a wonderful set of pasta bowls and serving platters which were delivered to my home a couple of weeks later. There was no way that I could have got that lot home on the plane! I wanted to order more but this particular collection did not feature on the artist's website, although she had listed some of her other pieces.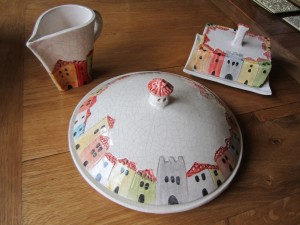 The following year I found myself in Piran again and ended up buying more ceramics. That shop was such an Aladdin's cave that I would love to be able to see the pieces online and order throughout the year. I had the same problem with a trader in Ljubljana who hand paints mugs and sells them from a stall in the market square. I am sure that I would have bought more of this lady's work if I could find it online as the mugs would be great gifts as well as looking good in my own kitchen. Instead I live in permanent peril of breaking one of the mugs that I have managed to get home.
These days most people have discovered the convenience of shopping online and it would benefit even the smallest traders to make their wares available to all, not just those who happen to be walking past their shop or stall. There are many shops and traders in all regions selling unique and unusual pieces or simply things which are distinctive to the region. Either way these are the things that you simply aren't going to find elsewhere and so ironically they are the very things which should be available online. If you want a standard saucepan you can go to any high street and get one but if you want a hand painted Slovenian serving bowl you are in trouble.
Ecommerce
As time goes by more and more traders with niche products are seeing the possibilities that an ecommerce website presents. EPoS (electronic point of sale) tills and software enable them to integrate their bricks and mortar operations with online sales and systems have been designed specifically for independent retailers. For a modest investment traders can move into the technological age and so maybe one day I will be able to buy my Slovenian ceramics from home. There were also some rather excellent scarves in Croatia that I would like to buy and don't get me started on the Limoncello available on the Sorrentine Peninsula! Purchasing these things from the UK may lack the romance of buying them on your holiday but the likes of easyJet don't do romance, just small luggage allowances!
Article by Sally Stacey