When I was a very little girl I experienced many long drives from Bristol to Kent to visit family. After miles and miles of countryside with few sights to occupy the mind of a youngster we would enter the metropolis and my Mother would point out landmarks and buildings to keep me from boredom.  It was the Firestone Building which always stuck in my mind as we would travel during the Christmas period and Firestone always had a wonderful display of Christmas trees in front of their Iconic premises.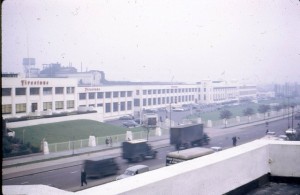 Firestone
Passing the Firestone building meant that we were close to London, a fact which always perked me up after sitting in the back of the car for such a long time. I didn't know it at the time but Firestone were one of several companies who deliberately chose to build landmark buildings on major routes into the capital for promotional purposes. Iconic buildings on important routes lent prestige to the brands. It was an early form of advertising which clearly worked if my experience was anything to go buy. The name Firestone was clearly implanted in my mind and it wasn't the only one.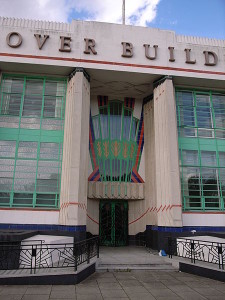 Hoover
Sadly the Firestone building was later demolished after a race between developers and a campaign to preserve the Art Deco building. The developers just managed to pull the building down before it was listed. This was an extremely sad event but it did precipitate the listing of other iconic buildings ensuring that they did not meet with the same fate. The Hoover building on the A40 is another monument to the Art Deco style built deliberately on a main road into London and that is another landmark that I always look for as I travel into London.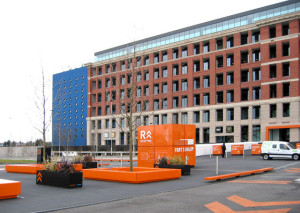 Dunlop
As an adult I have driven around the country extensively both for work and to attend football matches. I have really racked up the miles and have covered some routes on so many occasions that I couldn't begin to count them. Old habits die hard and I still look out for iconic buildings which have served as makers of progress on my journeys. I soon began to realise that there was a huge benefit to the brands in these edifices. Those names become part of your consciousness and I for one took an interest in companies who might well have passed me by otherwise.
Dunlop is a good example. Their huge red brick building was clearly visible from the M6 as you approached Birmingham. I always admired it as I passed by (or sat there stuck in traffic). Today it is a Travel Lodge hotel but I will always regard it as the Dunlop building. I have no interest in rubber and tyres but the Dunlop brand is firmly lodged in my mind. Somehow my interest is piqued when I see the name. I was interested to discover recently that Dunlop do slippers. They now cover feet as well as wheels! If it wasn't for that building this is the sort of fact which would not have registered with me.
Priceless
I now understand why the huge expense of iconic buildings is totally justified for the companies concerned. The architecture simply cannot be ignored and even after the buildings have changed hands those brand names still stick. They are landmarks on the mind as well as the landscape and that must be priceless.
Article by Sally Stacey