Anyone who has been forced to travel on a limited budget will probably have experienced a holiday where they have had to share a room or an apartment with several other people and that unfortunately means sharing a bathroom. You kind of get used to that at home but when your friends have eaten all sorts or drunk too much on the trip, the bathroom can become a very smelly place, if you know what I mean, so anything to alleviate the nasty niffs is a bonus.
A New Solution
If you are like me you will find air fresheners as unpleasant as the aromas you are trying to eradicate so they are not a great option. I was very excited recently to discover that there is a very handy solution and it is called Poo Pourri! Now you might think that I have made a spelling error right there and that I meant Pot Pourri but no!
Fabulous Poo Pourri
Poo Pourri is a fabulous innovation which deals with a problem that is as old as time and it really works! Poo Pourri is a neat toilet spray that you spritz into the loo before you poo! The spray leaves a protective layer of essential oils on the surface of the toilet water keeping the unpleasant aromas beneath the surface. What a truly brilliant idea!
The Traveller's Friend
You can now travel anywhere with any number of people and everyone is saved from the age old embarrassment and everyone else's stinks. The spray is environmentally friendly too as it contains no petrochemicals,, aerosols or hazardous materials of any kind. It is kind to the planet, kind to the bathroom and the best friend of anyone who enters the room after an event! Perhaps hotels should look at this option as it could be a great selling point!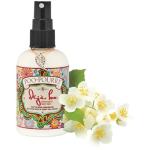 A Great Selection
The spray is available in a variety of scents to suit both men and women and there is something to appeal to all tastes. The brilliantly named Deja Poo offers delicate aromas of flowers with citrus notes (God I sound like I am describing a wine!) and Royal Flush is a masculine concoction of eucalyptus and spearmint. There are too many options to mention here but they all sound pretty good to me and there are different sized bottle to suit the enormity of your problem!
The Next Big Thing
Poo Pourri really could be the next big thing for group travellers or anyone else for that matter. It lasts a long time with even a small bottle managing 100 uses and so it is not something that is going to bust your budget. Poo Pourri could also make for a fabulous gift or at least an amusing one if you have a friend who is a bit of a stinky in the bathroom department. I can see this stuff really taking off once the word spreads. This is a bathroom revolution and you just have to try it!
Byline
Article by Sally Stacey