I have never been a great fan of hotels, preferring instead to rent a holiday home when I travel. I enjoy the additional space and freedom of a home from home and have learnt that choosing the right one can truly be the making of a great holiday. It might sound crazy but I would even go so far as to allow my choice of destination to be dictated by the available property. That is because a great house in a brilliant location can be such a delight and will totally transform my evenings after my adventures during the day.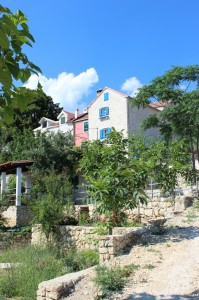 Croatia
Take my recent trip to Croatia. Sure I enjoyed the beaches, the crystal clear water of the Adriatic and the beautiful landscapes but I also revelled in my evenings spent in a beautiful garden overlooking the sea. The gorgeous Croatian stone house that I rented had a lovely garden complete with stone barbecue and dining table shaded by vines. There were spectacular views from the hillside location and there is nothing like having a wonderful spot all to yourself.
I spent each evening enjoying dinner, wine and the wonderful atmosphere. The backdrop was always a stunning sunset over the Adriatic and as the light faded the pretty exterior lighting added the perfect ambiance to proceedings. I really didn't want to be anywhere else and that is what a brilliant holiday home can add to your travel experience.
Finding Your Home
I know that some people are nervous about arranging an independent holiday but there is really no need. It is easy to find great properties via the many listings sites online and some these offer the security of payment protection in the case of fraud. I have rented many properties over the years and have never had a single problem. Indeed the majority of houses and apartments have turned out to be even better that I had imagined and the owners are generally very helpful. You can get a good feel for the sort of people you are dealing with from feedback posted online and renting a house can work out much cheaper than staying in a hotel of any quality.
Flexibility
Renting a property also allows you stay exactly where you wish and for as long as you like. You are not bound by the choices of a tour operator and the locations of the hotels and you can travel on the dates that suit you best. Booking the other elements of your trip like flights and hire cars is also straightforward and so you can build the perfect holiday for you and your fellow travellers.
I have never booked a package tour and I probably never will. I would not have wanted to miss the wonderful homes I have stayed in and the people, places and things I have discovered because of them. Every year my holiday is a new adventure and finding the right place to stay is one of the most exciting elements of the whole experience.
Byline
Article by frequent traveller Sally Stacey