Alhambra classical guitars are synonymous with quality and highly regarded throughout the world. The path to success has been an interesting one as the company was founded almost by chance and nearly failed shortly after being established. Today the company is a great success producing beautiful, traditionally hand crafted instruments in Spain, fashioned from quality woods from round the world but the road to success was a rocky one.
Early Days of Alhambra Guitars
Incredibly Alhambra Guitars would never have been born if one Martinez Clavel, a native of Valencia, had not been living opposite a guitar factory. Back in the 1960's he would look across the road from his apartment to see vehicles lining up to collect instruments from the guitar factory and thought that they were so busy that making guitars must be a good business to be in. All he needed was someone with the skills to produce them! As luck would have it a friend's brother in law, Ricardo Llorens was a maker of wooden moulds. This, of course, has nothing to do with guitars but Clavel thought that Llorens could use his skills to build an instrument. In the event he needed help from his boss José María Vilaplana Vilaplana but they did manage to produce a guitar. Clavel then invested some money and the company Manufcaturas Hachi was established in 1962.
Development
Manufacturas Hachi operated out of an old stable in Murco Del Alcoy which belonged to José Luis Rodriguez whose son became part of a team of eight at the company and who still works at Alhambra to this day. Everyone involved in the project initially worked on a part time basis, holding down other jobs at the same time. By 1965 the company had run into trouble and was on the verge of closure and Clavel, who had been the principle investor, had left the organisation which was now owned by Vilaplana and Llorens. That year they were visited by José Botella who was bringing a friend to purchase a guitar. On hearing of the company's imminent closure due to financial and commercial problems he joined forces with his father to solicit investment and the pair took over the company renaming it Manufacturas Alhambra. Vilaplana and Llorens then stepped aside, taking responsibility for the production process whilst the new owners ran the company.
Today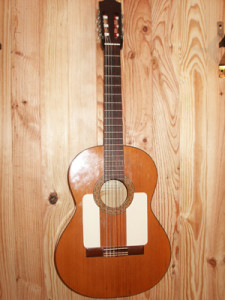 Alhambra's aim is to produce the highest quality guitars with exceptional craftsmanship but using the latest technology. Today the company is the largest producer of classical guitars in Spain and has a skilled research department ensuring the best ideas and new technological developments are fully utilised. Many of their craftsmen have been with the company all of their working lives and Alhambra now employs over 100 people and distributes to a number of different countries meaning you can find an Alhambra guitar here in London even. Alhambra uses new technologies in their production techniques but all of their classical guitars are hand crafted and are now considered to be second to none. An amazing achievement for a company which was once just a week from closure.
Byline
Article by Sally Stacey