Speaking as someone whose ideal holiday is a getaway in the mountains with no crowds and wonderful scenery I am shocked to find that for many people it is shopping that tops the list of things to do whilst away. Despite the global recession many travellers can't wait to part with their cash on a trip to the shops and I find this astonishing! For me shopping is a generally a chore especially as these days most high streets and malls have exactly the same brands on offer and are largely interchangeable but it would appear that I am an exception.
Factory Shops
A friend of mine works at Bicester Village, a collection of factory outlets situated in the heart of Oxfordshire. Through her I recently discovered that this place is now the biggest visitor attraction in the nation outside of London and my own visit this week to keep a friend company confirmed this fact as I couldn't get in the car park even though it was a week day!
The Village
As shopping centres go, Bicester Village is admittedly a very good one. The designer stores all offer discounts of up to 60% on their merchandise and the village is attractively presented. The parking is free, if you can get in, and there are some very good places to eat when you need a break. It is certainly a good place find designer labels at much lower prices than in their usual boutiques but the merchandise here is still very pricey on the whole. In spite of the obvious attractions of this place I still find it mystifying that people flock here in such numbers, especially the tourists, and there were clearly plenty of them around. The goods might be discounted but there is nothing here that you don't see elsewhere. There are no interesting independent retailers or the like, just the same old brands that dominate the market and feed on our obsession with wearing the right labels.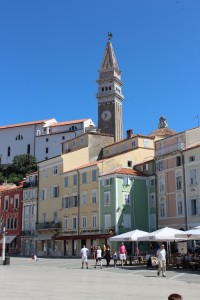 Unique Merchandise
When I am travelling I can only get excited about shopping when a retail adventure offers the promise of unique goods and things I haven't seen before. I love roaming the streets and alleys of Venice looking at the gorgeous shops and unusual objects d'art there and I spent a small fortune on beautiful ceramics in Piran on the Slovenian coast this year. These were things I had never seen the like of before and were the creative output of the country I was in. Shopping for Venetian glass in Venice is interesting, looking for Prada and Gucci in Oxfordshire doesn't quite have the same attraction for me!
Rare Breed
I am obviously a rare breed as all the available statistics show that shopping is high on many people's hit lists when they travel. Tourists are not heading for the hills, they are running to the malls which seems such a shame. I never have an internal debate on holiday about whether I should go white water rafting or shopping for kids clothes even if there are some bargains to be had when travelling. I have spent a lot of money going on holiday in the first place and I would rather make the most of being in a new destination than look at the same old labels again.
Byline
Article by Sally Stacey