Every country has their distinctive national dress – just think of Scotland and you think of kilts and tartan, and lederhosen couldn't be associated with anywhere other than Austria and Germany. When it comes to Spain, we all think we know exactly what the Spanish national costume is, right? In fact, Spain is a very diverse country, and the swirling red and black skirts and castanets are only traditional in a very small part of it.
Basque Country
The Basque region straddles both Spain and France, and this northern part of the country has a very different culture and style from the rest of Spain. Basques traditionally made their living in fishing and farming, and their traditional clothing reflects this. Go to any Basque town during a fiesta or celebration and you'll see both men and women dressed in white or red trousers and skirts, white shirts, black waistcoats and red neckerchiefs. The beret, or "boina" as it is called in the Basque region, is hugely popular for everyday wear as well as being part of the traditional dress.
Catalunya
At the other side of northern Spain, on the Mediterranean coast is Catalunya, whose biggest city is Barcelona. Catalans have a distinctive dress too, and also speak their own language which is similar to both French and Spanish. Lace is used extensively in Catalan national costumes, with most women wearing either a tightly fitting lace cap or a more free flowing lace veil over their hair. Nowadays, many proud Catalans wear clothing decorated with the colours of their regional flag, stripes of yellow and red. One of the best known Catalan traditions is building human towers where people stand on each other's shoulders, and if you happen to be around during a fiesta, you are practically guaranteed to see young men in traditional dress performing for visitors.
Galicia
In the far north western corner of Spain is Galicia. If your image of Spain is olive groves, dusty landscapes and bullfighting then Galicia is about as far removed from this as is possible. The countryside is lush and green, and the traditional bagpipe like instruments have more similarities with Scotland or Ireland than with other parts of Spain. Galician traditional costumes are functional and simple, with men wearing boots, waistcoats, loosely fitting trousers and wide brimmed hats, and women wearing wide skirts and shawls around their shoulders.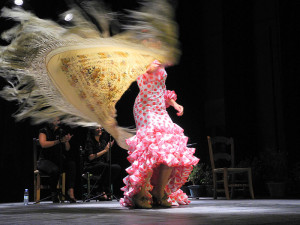 Andalucia
It's only in Andalucia, the very southern part of Spain, that you will find what most people think
of as traditionally Spanish clothing. The flounced skirts, spots and castanets are part of the gypsy flamenco tradition, which originates from the major Andalucian cities such as Seville, Malaga or Granada. Flamenco clothing is traditionally not as elaborate as many of the items sold to tourists, but over the years we have come to expect the frills and the flowers in the hair. Flamenco clothing for men is far simpler, with most wearing just a dark pair of trousers and a red or white shirt. If planning on buying some traditional Spanish clothing when on holiday, try to seek out retailers which are not predominantly aimed at tourists and you will get something more realistic to wear.
Byline
Article by Morag Peers