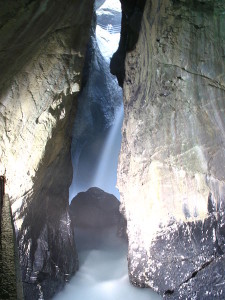 Despite the fact that I usually prefer natural wonders which have not been commercialised, I absolutely adore the Trümmelbach Falls in Switzerland. These cascades attract a multitude of visitors and there is an entrance fee but it is well worth braving the hordes to see these majestic cascades in action. Situated in the picturesque Lauterbrunnen Valley, the falls are a must see if you are visiting the stunning Bernese Oberland region of Switzerland.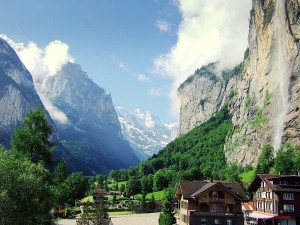 The Valley
The Lauterbrunnen Valley sits beneath the majestic Jungfrau, one of the iconic peaks of the Alps. The valley boasts 72 waterfalls and is one of the most naturally beautiful and dramatic destinations in Europe. The Trummelbach Falls are the only glacial cascades in the world which are accessible to the public via underground lift, platforms and tunnels. Here the melt water from the glaciers of the mighty Jungfrau, Mönch and Eiger plunge down at the rate of up to 20,000 litres per second through the mountainside and into the valley beneath.
Power and Noise
Visiting the falls is an almost mystical experience. From the car park you can see little but a serene mountainside that belies the power of the forces within. As you climb closer to the water you can hear a rumbling deep in the rock face and once alongside the falls it is almost impossible to hear anyone speak such is the volume of noise generated by the powerful falls. The spray thrown up meets the sunshine from beyond the mountainside to create a myriad of rainbows dancing above the water. The whole experience is a wet one for visitors as the spray fills every cavern and migrates to every viewing platform. The last time I visited I emerged looking more like a panda as I had been foolish enough to wear eye shadow and my mascara had run!
The Tour
A tour of the falls takes you past the various chutes and you can clearly see the impact of the water on the landscape. Vast areas of rock have been eroded and smoothed as the falls cut their path through the mountainside over millions of years. There are 10 chutes to explore and your journey begins with a funicular ride up and through the mountain after which you must ascend on foot before working your way down through the system of cascades.
When to Visit
The falls are open April to November and are at their most majestic when the sunshine is peeping through the rocks as then you will see the rainbows, but the falls make for a great destination if the weather is poor too. If the conditions make a hike in the Alps or a day by the nearby lakes unappealing then head to the Trümmelbach Falls which are inside the mountain and where you are going to get wet anyway!
Byline
Article by Sally Stacey