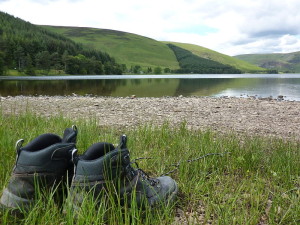 I love travelling and take as many trips as my time and budget will allow. It isn't only my budget that causes issues, however, it is also my feet! I adore adventure sports, hiking and exploring new cities but my feet are problematic causing my footwear to be a make or break feature of any holiday. Not only do I have to take a selection of shoes that would rival Imelda Marcos, said shoes must be carefully chosen to ensure that I can last the course.
Being Prepared
Typically I travel everywhere equipped with walking boots, aqua shoes, trainers and sandals as a bare minimum but not just any styles. I have wide feet, narrow ankles and gout ridden bones and so choosing my footwear can be a major mission during which I can easily spend an entire day trying and rejecting styles that do not adequately accommodate my feet. There is nothing worse than labouring along a trail because your feet are howling or hobbling around the streets of a beautiful city desperate for somewhere to rest.
The Path to Success
I have found that the quickest route to a successful footwear purchase is to find the brands that work and stick to them where you can. Everyone's feet are different and the right style for each individual will vary but I do find that if one style in a range suits me well then many of the others will too.
My Favourites
I usually wear Skechers trainers because the soles seem perfectly structured for my high arches. Berghaus walking boots accommodate the width of my feet but do not flap around my heels and as for sandals well it has to be Rieker! Admittedly Rieker shoes are made with comfort and problem feet in mind by they are stylish too. Whilst I want to walk around the likes of Rome and Dubrovnik in comfort I don't really want to offend the fashion police whilst I am doing it.
Safety First
No holiday is going to be perfect if your feet are in agony and so comfort should be king and all eventualities considered. Packing in all of my footwear can be a bit of a project but I have never regretted taking a good selection of shoes and my feet are also eternally grateful! I would go so far as to say that shoes are the most important consideration when I travel. I am happy to take the risk of travelling light when it comes to clothes as I can pick up extras anywhere but footwear must be carefully chosen in advance to avoid disaster.
I don't want to be one of those poor people nursing vicious blisters and cut toes and I have seen travellers in such agony that they would gladly cut their own feet off! The only way forward is to find the brands that you can trust to be up to the task and the ones which suit your feet the best. The right choice will leave you free to enjoy everything that your holiday throws at you and all without giving your feet a second thought.
Byline
Article by Sally Stacey