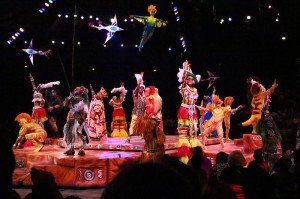 If you love West End theatre but struggle to afford the ever increasing prices or if you are in a quandary over what to go to see then West End Live Could be the solution. The event is held annually in London to showcase the great musicals running in the capital and provides two days of fabulous entertainment for people of all ages. The best new is that the entire event is free.
2014
Wes End Live 2014 will take place 21 and 22 June in Trafalgar square.  Each day the show runs from 11am until 6pm with all of the fabulous musicals taking to the stage to perform.  There is a different itinerary each day so do check the schedule for your favourites but whichever day you choose you are assured of some fabulous entertainment. Each show will be on stage for around 10 minutes providing uplifting performances and a snapshot of the show to help you decide if you would like to see the whole thing. Where else could you see so much without having to pay a penny?
The shows you will see this year include Wicked, The Lion King, Charlie and the Chocolate Factory and Billy Elliot. Old favourites Phantom of the Opera and Les Misérables will be there and there will also be performances by the Royal Opera House and Lord of the Dance. There is something for everyone to enjoy here with one big show after another taking to the stage.
Getting There
On both days Trafalgar square must be accessed from the northern approaches and entrance is on a first come first served basis. The event is extremely popular every year and there will be times when the square reaches capacity. If this happens visitors will have to queue up and will only be able to enter when other guests leave. For this reason it is best to arrive early and once you have your position you shouldn't leave unless it is absolutely necessary as you may find that you can't get back in again. Whatever you do don't leave without the rest of your party as it may be a long time before you see each other!
Be Prepared
Visiting West End Live will mean a long day standing up in what could be hot temperatures or inclement weather. Check the forecast before you set out, dress appropriately, wear comfortable shoes and take plenty of refreshments to keep you going. I have a major dilemma here as I am attending the first day and it is my Birthday. Not that this would be a problem in itself but I am having a meal at the rather upmarket Langans Brasserie in the evening where they probably wouldn't appreciate me arriving looking like a tramp! There are some careful wardrobe decisions to be made right there.
West End Live is a great event for the whole family and the best way to work out exactly which shows you would like to see in full but you won't be the only one who thinks it's a great idea so arrive early and plan to stay put for some time.
Byline
Article by Sally Stacey