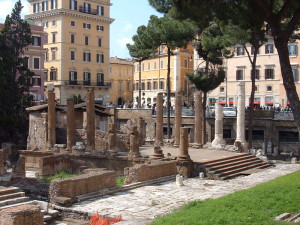 Rome is a stunning city with architectural marvels around every corner. Tourists flock to the eternal city to marvel at the ancient Roman ruins and Renaissance masterpieces but there is one special place that many do not see which is situated just a few hundred metres from the busy and fashionable shopping area of Via Condotti and the Piazza Venezia at the heart of the city. Largo di Torre Argentina is a beautiful square containing some spectacular Roman ruins but is equally notable for its feline residents.
Roman Cats
The city of Rome is home to over 300,000 feral cats living in some 2,000 separate colonies. As you walk around the city the cats are a common sight even at landmark attractions like the coliseum. Many citizens love the animals which are often fed by the locals but also hunt for their food. In antiquity the cats were highly valued for keeping the plague at bay by killing the vermin which carried it.
Torre Argentina
The ruins of Torre Argentine are of great historical significance as this was the place where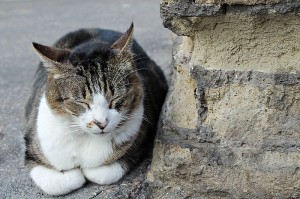 At one end of the excavations the cat sanctuary of Torre Argentina is housed in a cave like structure with public access via a metal stairway from the street. The sanctuary cares for 250 homeless cats, some with serious medical conditions, and seeks to find new homes for the animals. Most of the residents were not feral cats but rather domestic animals which have been abandoned. Some cats are housed indoors but many freely wander amongst the ruins and are clearly visible to the tourists above. If you are a cat lover this is a beautiful and touching place which survives by taking charitable donations of money and pet supplies. The sanctuary is open to the public who can meet the indoor cats and learn about their histories in exchange for a small donation to help with their upkeep. It is a well-run shelter which is wonderful to visit but could do with the addition of a fragrance lamp!
Threatened
The sanctuary is now threatened with closure as some officials feel that a site of such historical significance is an inappropriate home for the establishment and there have been fears over the potential spread of disease. Given the preponderance of cats in the city and the fact that they were so valued in ancient Rome it seems to me that Torre Argentina is the ideal place for such a shelter. I love this place and always make a pilgrimage there when I am in Rome. I do hope this unique and wonderful place gets a reprieve.
Byline
Article by Sally Stacey