Skiing holidays don't come cheap wherever you go and some of the top resorts are totally beyond the pockets of many travellers. There are, however, ways of mitigating the expense and you can even ski on some of the top pistes without paying their extortionate charges. So how do you save money on your winter break?
When You Go
It is worth investigating the resorts you are considering to see what their snow record is like at different times of the year. If you can avoid the peak period which is basically Christmas to the end of February you may save yourself a fortune. There many resorts which are open well into April and even May in some instances but the prices are lower and the crowds much lighter towards the end of the season.
Try Somewhere New
It is all too easy to head straight for the major resorts in France, Italy, Switzerland, Austria and North America without considering less obvious options. Some of the lesser known destinations in these countries are far cheaper and it is also worth considering other countries like Poland, Slovenia, Bulgaria and Romania. You may find smaller skiing areas and inferior facilities in these resorts but the prices are lower, you will escape the crowds and there is the delight of visiting new and unusual destinations. The savings can be enormous. Skiing in one of the big resorts in Europe could cost around £1200 whereas a week in Kranjska Gora in Slovenia would only set you back £500. You can take the savings or have two trips instead!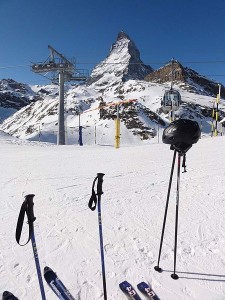 The Other Side
Another tactic to consider is staying on the other side of the mountain! Prestige resorts are often linked to other skiing areas which are far cheaper both for accommodation and lift passes but that pass may well enable you to ski in the more prestigious resort too. Take Zermatt for instance. Zermatt is a very expensive destination but who wouldn't want to take on the pistes in the shadow of the glorious Matterhorn? If you stay in Cervina, which is over the border in Italy, the lodgings are far more reasonable in price and the lift pass is £100 less than in Zermatt but you can use it in Zermatt
whenever you wish.
Think laterally and you can really save some cash and Tarvisio is a good case in point. Tarvisio is a pleasant resort in the extreme north eastern corner of Italy. The pistes are generally quiet and your lift pass can also be used in nearby Sella Nevea. Tarvisio is a relatively inexpensive place to stay but the Slovenian border is just 9 miles away and if you lodge in Bovec you pay even less. Better still, Bovec has its own ski centre which is linked to Sella Nevea. 3 resorts to enjoy , cheap accommodation and great value lift passes!
Skiing really doesn't have to cost the earth if you do a little investigating and a cheaper holiday doesn't have to mean that you miss out on the best pistes. Most winter sports enthusiasts would like to travel more often both to enjoy more time on the snow and to justify their investment in their snow apparel and equipment. There are ways to do that if you take a little time to consider your options.
Byline
Article by Sally Stacey